Thank you
Could there be a more wonderful way to celebrate this month of crackling leaves and cocoa, silky scarves and maybe even snow?!
is hosting 30 Days of Thankfulness this year from November 1st through the 30th!
The invitation is to post some things we're thankful for on our blogs or Facebook or Twitter pages. I think I'll do a little of each, keeping up with
counting the gifts
, too.
Would you like to join us?
Rachel will provide a Linky on her blog each day for blog posts. She also has a Facebook page for the event.
I'm looking forward to it! A whole month of Thanksgiving! Tuesday can't come quick enough.
And since I have so much to be thankful for this Saturday morning, mind if I share?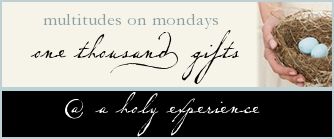 #66: friends who encourage and build up
#68: that happy sigh after reading The End (even though you didn't want it to end)
#69: a to-do list that's mostly to-done :)
#70: crisp autumn air
#71: writer buddies you can be semi-ridiculous with
#72: a three-year-old's giggle
#73: a late-night talk
#74: dreaming of December (It's almost Christmas! Yes, I am one of those people for whom it can't come quickly enough.)
#75: two life-changing words