I had the honor of being interviewed on Virtuous Girlhood last Saturday. It was great fun...and Rose sure did know how to ask the hard questions!
Click here to read about

my biggest dream.
So there you have it! My favorite subject: dreaming big.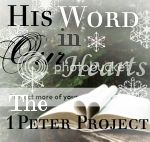 Also, this is the year I've discovered the dawning of a new dream! When my group of friends and I first set out on the adventure of
The I Peter Project
, I was a smidgen nervous about it. After all, though I love to memorize God's Word, I've never before made it my goal to memorize more than a few verses in sequence (sometimes a short psalm), much less
an entire book!
I've been amazed as the weeks have flown by, though. First of all, God has used the verses to speak to my heart in difficult moments, encouraging me. And second, I've actually done it! I can recite the first fifteen verses of chapter one and I'm super-excited about keeping it up throughout the rest of the year. It's not too late to join us, either.
Click here to learn more about His Word in Our Hearts.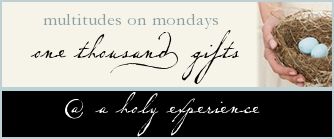 #100
counting 100 gifts, of course!
#101 dreams
#102 the hard questions (thanks,
Rose!)
#103 a bracing bout of the giggles
#104 one of my first dreams come true (
you can read it here
)
#105 nerve-wracking emails
#106 adventures in His Word
#107
hearing the music of hope
#108 finishing a book in a day
#109
the friends who walk the adventure with me
#110
daring to dream
God dreams big and He wants to teach us to do the same. He wants to make the dreams He has put in our hearts,
the dreams we're afraid to dare to dream

,
come true.