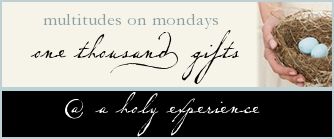 #100
counting 100 gifts, of course!
#101 dreams
#102 the hard questions (thanks,
Rose!)
#103 a bracing bout of the giggles
#104 one of my first dreams come true (
you can read it here
)
#105 nerve-wracking emails
#106 adventures in His Word
#107
hearing the music of hope
#108 finishing a book in a day
#109
the friends who walk the adventure with me
#110
daring to dream
God dreams big and He wants to teach us to do the same. He wants to make the dreams He has put in our hearts,
the dreams we're afraid to dare to dream

,
come true.